About
​Wesley Brown is a resident artist at Baltimore Clayworks. He seeks through his work to speak to the unrefined nature of living.

Brown handles clay to bring to the forefront an exhibition
of the fullness of the material's nature. Brown has said, "I want my work to be enjoyed first by the eyes and then by the hand," a testimony to his affinity for both striking aesthetics and tactile
Brown has a schooling in the making of functional wares and sculpture and has worked and studied as an artist in such places as Indiana, North Carolina, and Jingdezhen, China. He holds an Associates of Art from Sinclair Community College, a Bachelors of Fine Art from Bolwing Green State University, and a Masters of Fine Arts from Indiana University."


Photo credit: Trent Haines-Hopper
Powered by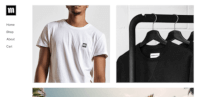 Create your own unique website with customizable templates.